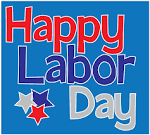 According to the US Department of Labor website: "Labor Day, the first Monday in September, is a creation of the labor movement and is dedicated to the social and economic achievements of American workers. It constitutes a yearly national tribute to the contributions workers have made to the strength, prosperity, and well-being of our country."
Many of us celebrate Labor Day with parades and picnics and cookouts. For many of our neighbors in Marion County, Labor Day is just another work day. Many of our neighbors whom we serve are the "working poor" who have little to celebrate on this day. They have to decide daily whether to buy food, gasoline to get to work, pay the rent, buy medicine, or keep the lights on, and because they are working they make too much money to qualify for food stamps.
MCCM relies on YOU to help us make their burden a little easier by providing food and utility assistance.
Can you help us this Labor Day?