"Pennsylvania synagogue delivers cereal to Whitwell Middle School" is the title of an article by Kathie Tierney in the February 1 edition of the Sequatchie Valley Independent.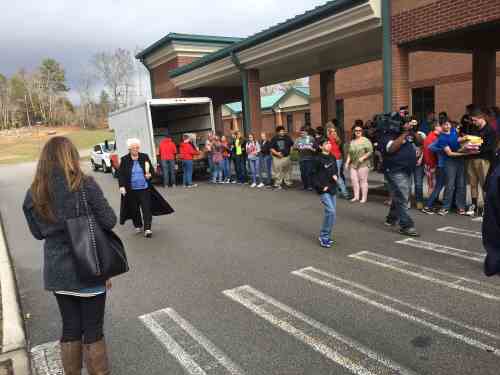 The Har Zion Temple is located in Pennsylvania about 10 miles from Philadelphia and about 772 miles from Whitwell Middle School. Norman Einhorn, co-principal of the Har Zion Temple high school, and Rabbi Shawn SimonHazani drove all night to bring a van load, 569 boxes of cereal, to WMS.
As most of our volunteers know, we have a cereal shortage at the Food Bank and the students at WMS wanted to do something about it. Har Zion Temple, has a long term relationship with WMS because of the Children's Holocaust Memorial and the Paper Clips Project started by WMS in 1998 when Linda Hooper was the WMS Principal. When Har Zion heard of the student's project they decided to help. An anonymous member of the congregation also pledged $5.00 for each box of cereal collected during a specified period during the project. As a result, Har Zion also presented the food bank with a check for $2,100.
In the Jewish tradition a mitzvot derives from the Law, mitzvah, found in the Hebrew Scriptures and refers to an obligation under the law and is generally applied to any good deed.
A more detailed description of the event can be found in Kathie Tierney's article.
Principal Einhorn, Rabbi SimonHazani, thank you for your blessed mitzvot.